PRESENTATIONS
Feel free to use the below presentations to present to your group. All we ask is that you keep the footer intact. Also, if you would like someone to come speak to your group about these or any other amateur radio topics please contact us.
PHONETICS
To ensure clarity and professionalism, always remember to use proper phonetics.
Word list adopted by the International Telecommunication Union: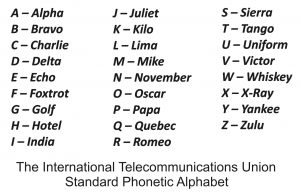 ICS/NIMS Courses
Since many events utilize the Incident Command Structure (ICS) it is recommended to complete a few of the online courses that are available. Amateur radio operators are also encouraged to join their local ARES group for additional training opportunities.
NEWS
Event Support Group sends out periodic announcements and updates through our email list. You can join this list by signing up here: Click to Join